A fantastic new website, Savannah Agenda, is helping citizens understand our local government, businesses, and most importantly, the relationship between the two. Several recent posts have Savannahians pretty ticked. First, there is City Council's vote to move the Waving Girl Statue down River Street to a new hotel development. (More on the Waving Girl here and the council vote here.) Second is a proposal to move a historic building two blocks so yet another new hotel can be built. The 119-year-old building, located at the corner of Lincoln and East Bryan streets, houses local favorite Abe's on Lincoln. It's a bar. Don't judge, it's important to us.
This proposal, combined with several other social media posts I've seen recently has inspired this rant: STOP moving old structures. There are good reasons that relocated structures are rarely eligible for the National Register of Historic Places.
Most importantly, when you move a historic structure you divorce the structure from its archaeological site.
Relocation is almost always done so a property can be freed up for development, and the archaeological site is destroyed.
Poorly done relocation destroys the larger landscape and viewshed.
Finally, the idea that history should just shove over for new development is deeply arrogant and myopic. Only saving a historic structure while sacrificing an archaeological site is poor preservation at best and short-sighted arrogance at worst.
There are extremely rare circumstances when moving a historic structure is warranted. For example, Cape Hatteras Lighthouse was moved 2,900 feet away from the coast in 1999. Climate change and erosion had undermined the lighthouse to the point it was in danger of toppling. Clearly, a case where moving a structure was necessary for both preservation and safety reasons.
The relocation option needs to be taken off the table except in extreme circumstances. Planning commissions need to stop allowing it, and historic preservationists need to stop condoning it.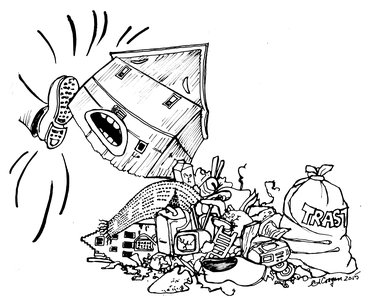 "sometimes ownership isn't just a matter of who holds a mortgage with a bank, or whose name is on a property deed. A community can feel a sense of ownership for a historic site or a natural wonder in its midst."

SOURCE: Altamont Enterprise Opinion page